Client
Splash Media
Task
outdoor
Outdoor advertising as urban renewal
One of Denmark's most iconic buildings will undergo extensive renovation, which will require scaffolding.
43.5 meters tall
Inaugurated in 1905 and located on Valby Bakke's highest point, the observation tower at Copenhagen ZOO offers panoramic views of Roskilde, Køge and Øresund Bridge and boasts about 40,000 visitors annually, a number largely unchanged since 1905
Extinct animals at ZOO
"A big venture in the 2021 season is the new, lifelike models of dinosaurs that we've placed throughout the zoo, each surrounded by its natural habitat." – Jørgen Nielsen, CEO, ZOO
1.2 million visitors
Nearly 1.2 million people visit Copenhagen ZOO in an ordinary year, and even more pass by the tower
1:1 copy
A 1:1 image of the tower adorns the scaffolding, also showing primeval vegetation and dinosaurs to simultaneously draw attention to the 25 prehistoric creatures on display at the zoo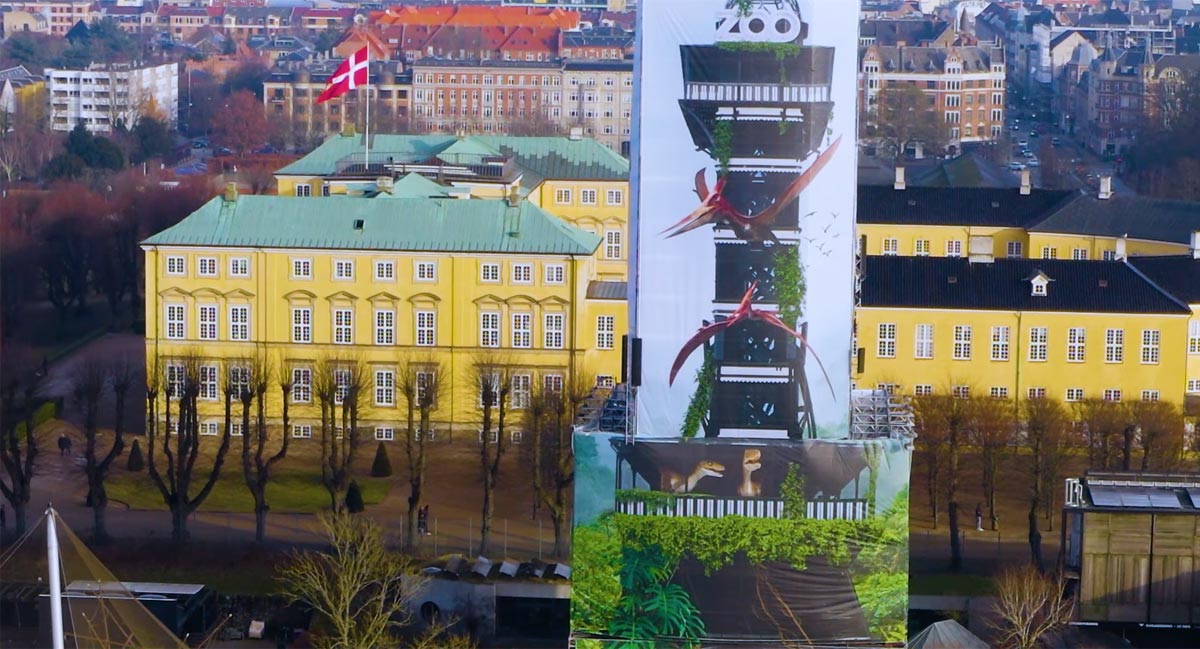 Construction boom creates attention
Scaffolding is hard to miss with the construction industry booming nationwide, but that doesn't mean that urban renewal and renovation projects must mar the cityscape.
A prime example of creating a positive experience for the local community, commuters and tourists is the Zoo Tower. With its 43.5 meters undergoing top to bottom renovation, the sheer size of the overhaul generates loads of attention.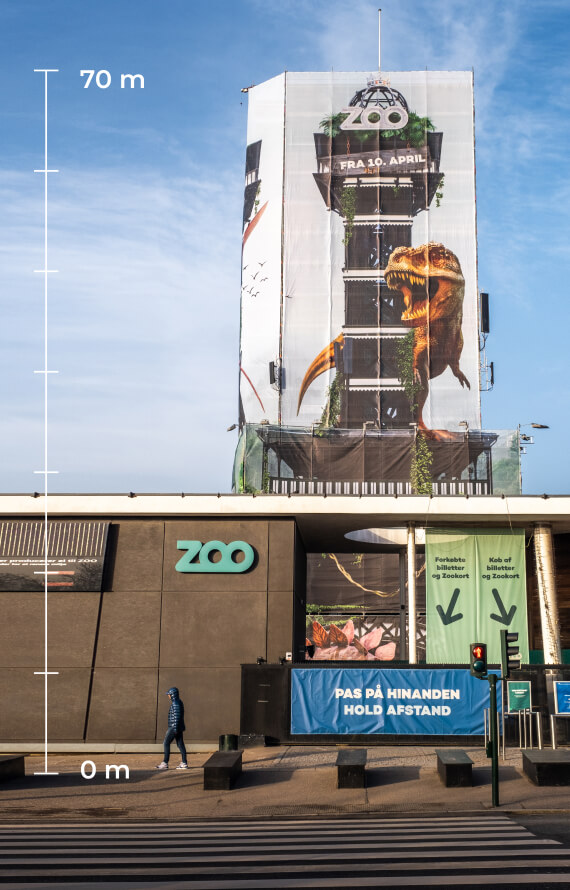 Making a difference in the local community
The ZOO project is one of the more iconic examples of making a big difference in the local community. The tower, which comprises an immense 2,500 m2, is visible from Østerbro (Copenhagen's east side) to the towns of Valby and Rødovre, not to mention the capital's city centre.
Creating the illusion of a tower jutting up through a prehistoric jungle where dinosaurs roam draws attention to ZOO's activities while simultaneously maintaining the landmark's presence in the beautiful Copenhagen skyline.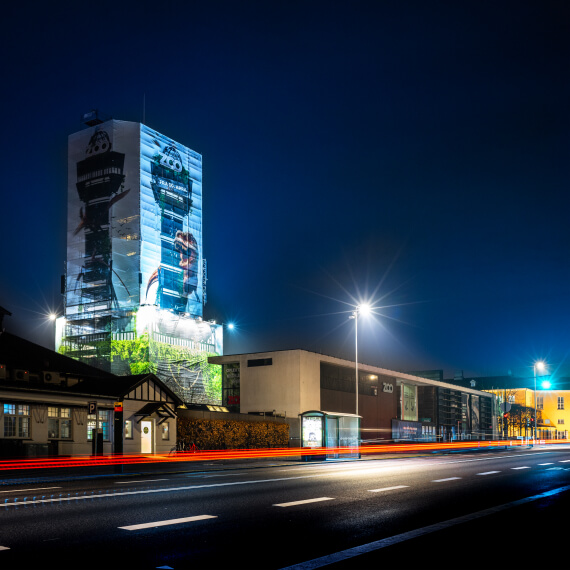 Outdoor ads are more than just advertising
"There is a longstanding practice abroad of builders protecting the architecture and surrounding environment/area affected when restoration projects are initiated. Recreating a beautiful façade on the scaffolding protects both the architecture and the history while reducing any inconvenience it causes for the thousands of people who pass by daily."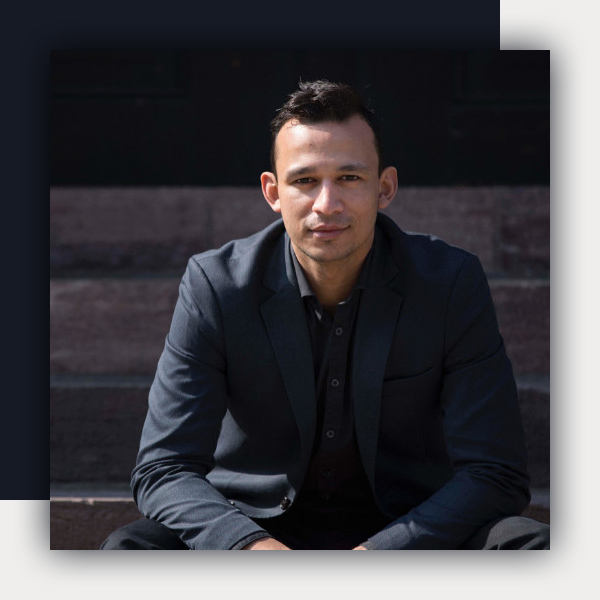 See the tower
ZOO Tower from all angles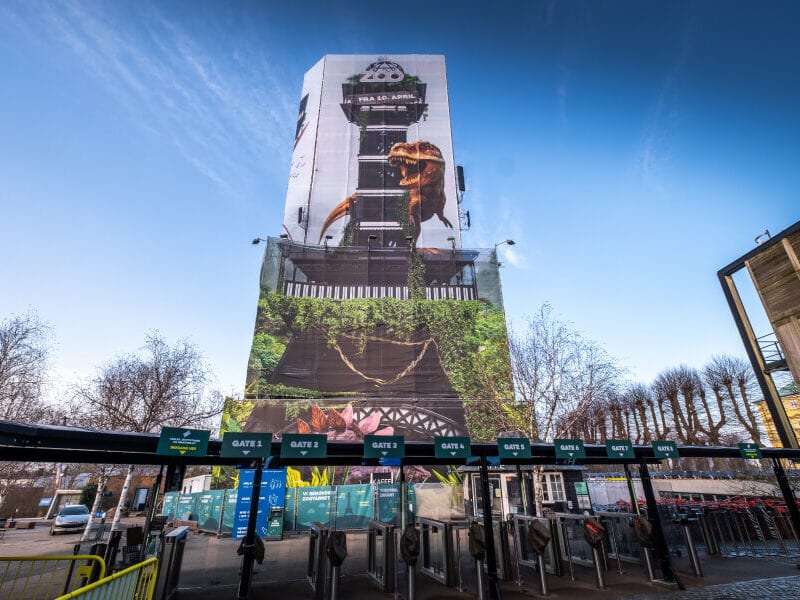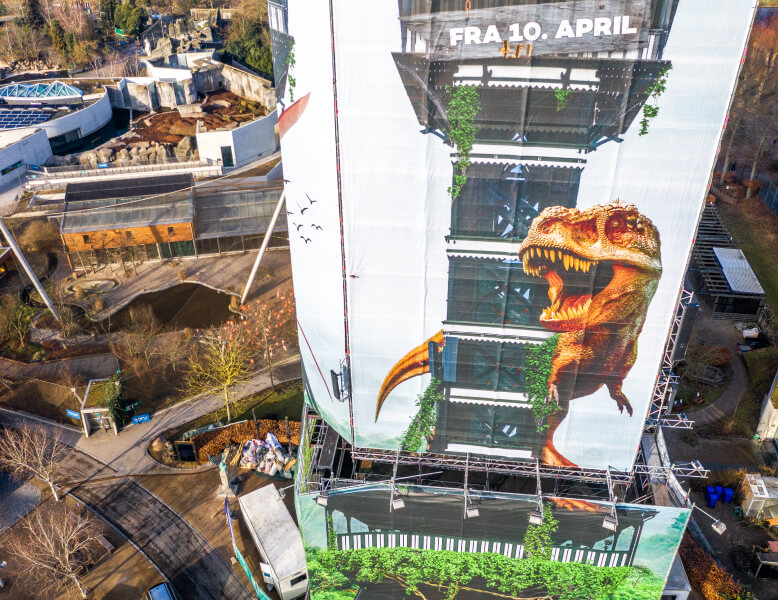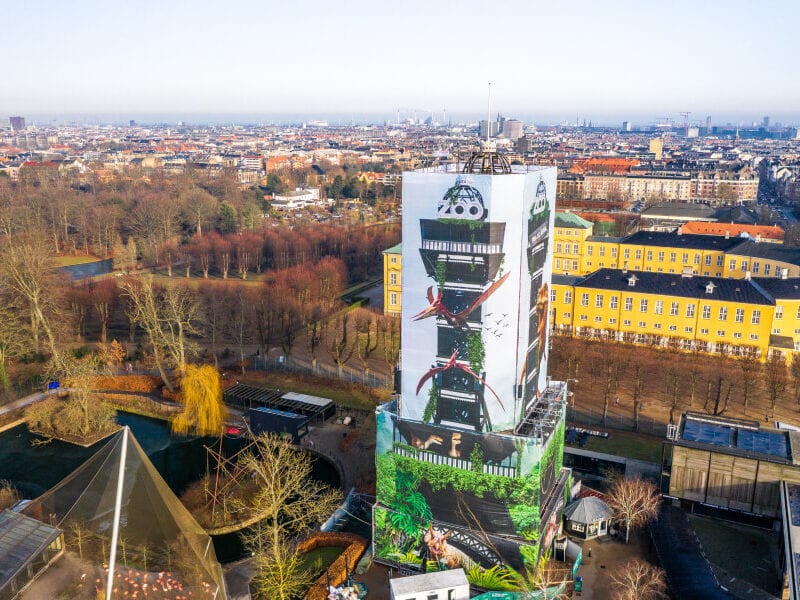 "We are used to working with large formats but working with something as huge and as iconic as the ZOO Tower can be a bit intimidating. The result, however, speaks for itself because even though the tower is shrouded it looks just as good as before the scaffolding was set up."
– Peter Rainer, AD, Marketsquare.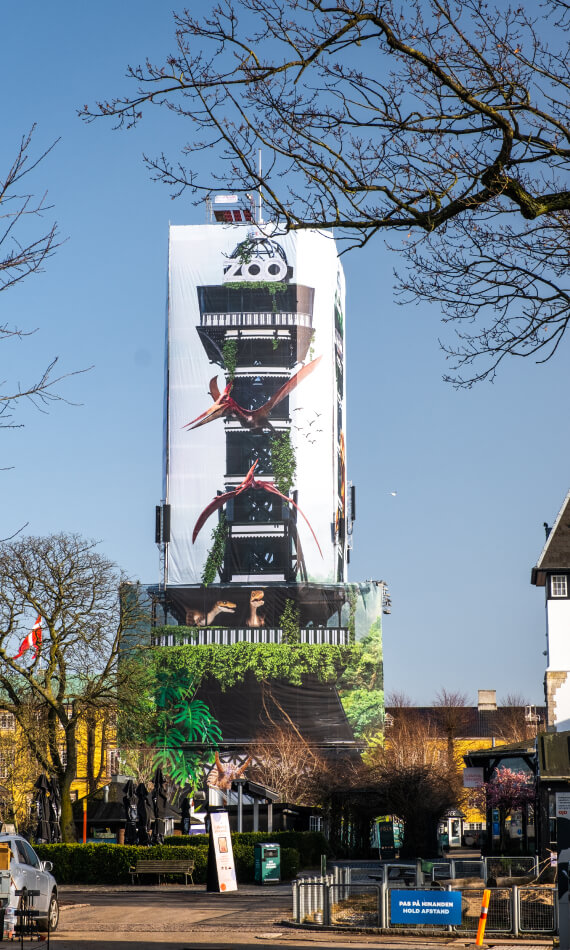 Award-winning visual identity I Yatai