Client
Alm. Brand
Project
concept and app design
Stocks are for more than just Wall Street
Operating in the insurance field, the Danish financial services group Alm. Brand has an online trading platform that gives people hands-on, virtual experience with buying and selling stocks. Our job was to demystify the process.
68,000 participants
More than 68,000 people participated in Denmark's leading business newspaper Børsen and Alm. Brand's stock market game in 2020
DKK 500,000
This fictitious amount was given to all players to try to invest their money in the best way possible
Prize
The winner of the entire game received 250,000 Danish kroner to spend on Alm. Brand's real investment platform
Alm. Brand's stock market game gives ordinary Danes hands-on experience with what buying and selling shares is like, providing an opportunity that demystifies the entire process.
Alm. Brand's stock market game gives Danes the chance to try their hand at what seasoned investors do: buying and selling shares. The simplified, simulated gaming universe is designed to teach the basic principles of buying and selling securities while wetting their appetite for more.
The aim was to design a game that is easy to understand for as many players as possible, regardless of individual background and level of experience. For this reason, some aspects of the stock market game were simplified to allow everyone participating to concentrate on tinkering with, selecting and trading exciting stocks to learn more about how to conduct themselves on the stock market.
The collaboration between Børsen and Alm. Brand enhances the project's credibility, strengthening the campaign's impact on the target group.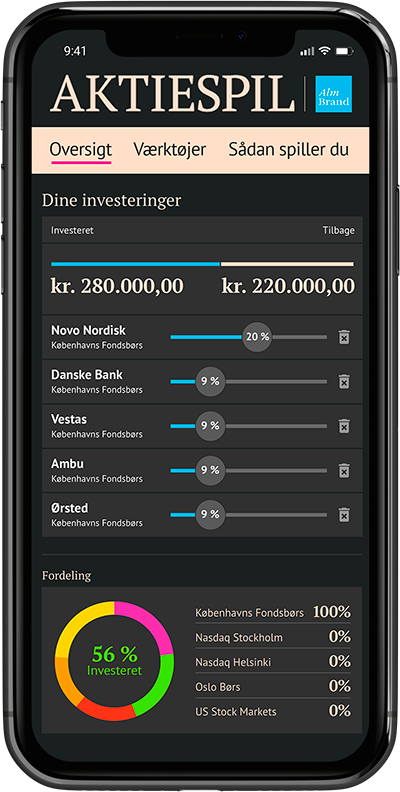 How did it work?
Steps for playing Børsen's stock market game
#1

Create profile

Players begin by creating a profile and then setting up their own pool to play against friends, co-workers and family.
#2

Invest

Players invest 500,000 Danish kroner by selecting stocks from the American, Danish, Finish, Norwegian and Swedish stock markets.
#3

Buy, buy, sell!

Players then screen and watch the market to determine when to make trades.
#4

Improve the odds

Players improve their prospects by listening to experts from Alm. Brand and reading articles in Børsen regarding everything from background knowledge to straightforward tips.
It was fun
But also educational. Marketsquare also pulled some strings to be certain that most players ended up decent returns.
Hey, check out Marketsquare's final position on the left – way to go player Ritt B!
The future can be shaped and improved