Client
YouSee
Task
bus advertising
When the bus rolls, the internet stops
Everyone is familiar with restlessly drumming their fingers in front of a screen. The odd swear word is not uncommon when that rainbow-coloured ball endlessly rotates or a favourite series jumps and jerks because of a bad internet connection.
Outdoor advertising adds extra insight
Bus lines 26 and 27 in the Danish capital of Copenhagen reminded viewers of the deep frustration of a favourite series or film being disrupted by an unstable internet connection at just the wrong moment. In Out of Home Media's Outdoor Relay, which transformed Copenhagen city buses into creative advertising spaces, the Danish telecommunications company YouSee's latest bid presents the full foil wrapped right side of a bus.
According to Henrik Sørensen, Out of Home Media, the choice of media, the impact and attention-grabbing qualities of the ad on the street scene, not to mention the ad's message, are ingeniously combined by integrating the back wheel of the bus in the execution of the ad. Sørensen emphasises that the ad shows optimal use of Denmark's largest, most visible outdoor advertising surface to illustrate an everyday situation with which people are all too familiar.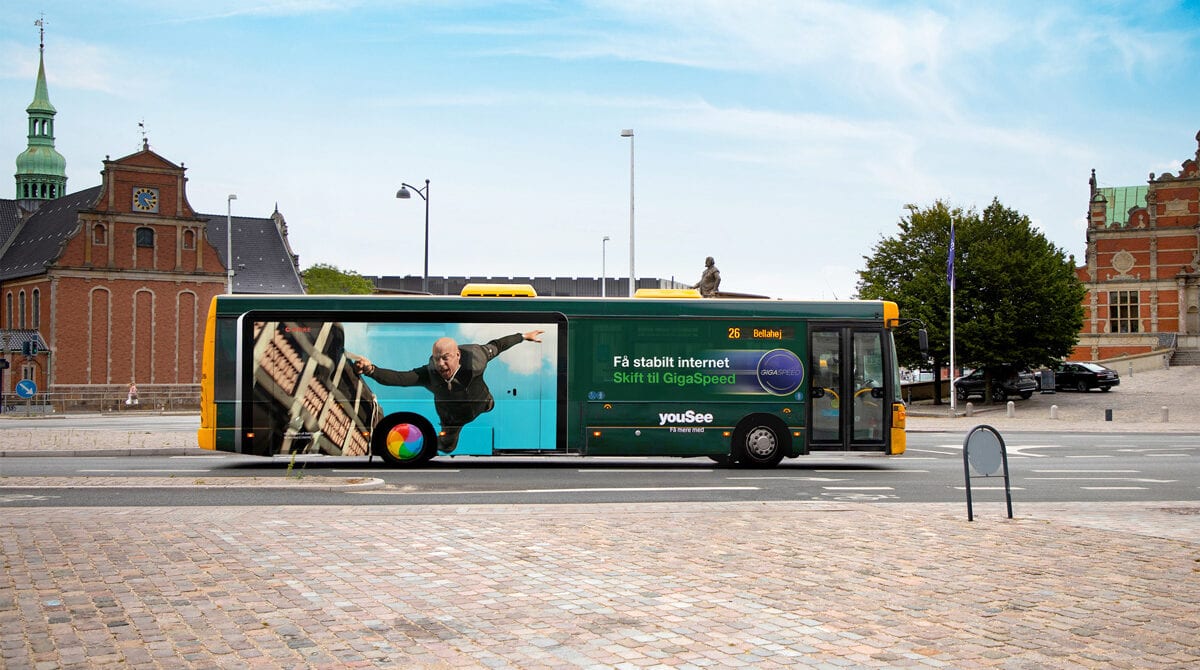 COVID-19 made us more dependent on a stable internet connection
YouSee is incredibly enthusiastic about the creative insight behind the full-side bus ad because it plays off of two of YouSee's biggest strengths as an internet provider: extraordinarily fast internet and access to loads of films and TV series.
"The corona lockdown made it abundantly clear how crucial a stable internet connection is for having a good workday at home. And at the same time, we witnessed how our large selection of TV entertainment gave people a cosy respite in their living rooms in the evening."
– Julie Fick, Campaign Manager, YouSee
Follow No. 26
A trip around Copenhagen