17.08.2021
Does banner advertising even work? It's an eternal discussion among marketers going as far back as I can remember. You'll find the answer in your goals. If you're trying to attribute direct sales to them, then, well, the answer is no, but it is still a unique way to create visibility and preferences.
Do display banners build brands?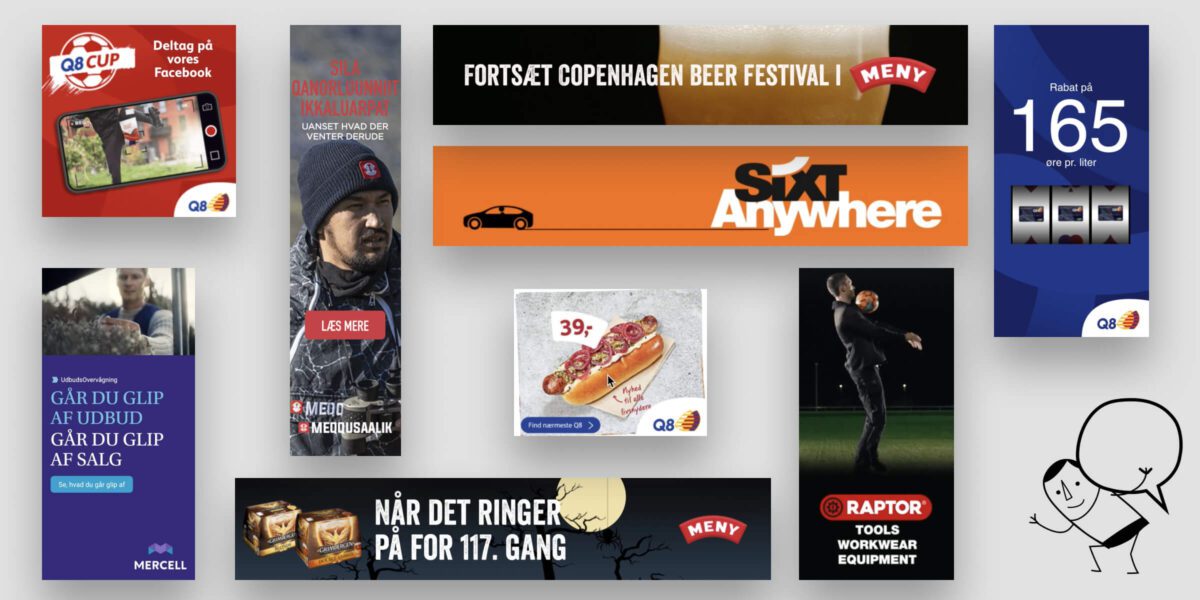 Can display advertising help build a brand?
Does banner advertising even work at all? It's an eternal discussion among marketers that has been around as far back as I can remember. You'll find the answer in the goals you set. If you think direct sales can be attributed to them, then, well, the answer is no. But they are still a unique way to create visibility and preferences.
It's 2021. For some, display banners have long been doomed, but for us at Marketsquare they're still a crucial way to build brands!
Drop the clicks, focus on the experience
Display advertising allows you to reach new customers, change brand perception and reach your target audience with extraordinary precision. But the approach you take certainly matters a great deal if you would like to succeed – pay peanuts, get monkeys!
The strategy must hit the bull's eye because how likely are people to buy something from a brand they've never seen before or, for that matter, heard of? When it comes to understanding the digital customer journey, which spans from exposure to a given message to the time of purchase, a wide range of actions take place. Each step in this journey includes aspects that can change the perception of a brand, the level of availability and insights into competitors and price.
Where do banners fit in the marketing funnel?
The marketing funnel is as familiar to us as the back of our hand. The journey starts with creating awareness, moves into thinking about what to do next and, finally, to closing the sale. Display advertising helps with the first two steps. The most common mistake is placing banners at the bottom of the funnel, where they end up competing with, for instance, Google Ads. The two types of advertising represent two highly different steps in the customer journey.
In the world of online advertising Google Ads reign! Why is that? Because they can easily be attributed to conversions (leads and sales). The hard work that went into building the brand prior to conversion, however, is sometimes forgotten.
That's why display banners are still justified. They help create brand awareness but typically have a bad reputation because the wrong success criteria are set up. A comparison is made with conversion media, leading to the erroneous conclusion that they had no effect, or a poor one at best.
What does buying banners involve?
There are typically two ways to buy display banners. The first is to purchase clicks (CPC), a method that Google Display Network also uses. The other is to purchase cost per mille (CPM), which is the price per 1,000 advertisement impressions. Premium platforms like the Danish Adform also use this method the most. You can either buy directly from the media, which can provide clear advantages in terms of formats and locations but may prove to be more expensive than the other choice, programmatic buying, where an auction approach is used to purchase views. The latter is typically cheaper as media outlets must sell time-bound placements because they become obsolete by the next day.
Why does Marketsquare recommend display advertising?
The first step in building brands is to create awareness by letting the target audience know that the brand exists. Display ads reach new customers, build positive perceptions of the brand and expose the target group to precise messaging. The greater your visibility, the more likely you are to be remembered, even if a purchase is made offline.
As mentioned earlier, Google Ads reign, but studies show that combining Google Ads and display banners can increase conversion rates by over 22% compared to solely focussing on the bottom of the funnel.* A simple explanation may be that we all feel safe and reassured that we're making the right choice if we are already familiar with the brand. Moreover this type of advertising offers the opportunity to create a great deal of branding with a modest budget.
Why is display advertising particularly smart?
Banners are often dismissed but they still have a key influence in a marketing ecosystem because users like free content. Advertising helps to pay the cost, allowing articles to be read for free.
Many people fail to consider the wide variety of inspiring ways display advertising can be applied, for instance hyperactive messages that can be changed as news develops, or contextual views that show cake and coffee when it rains or a rosé banner when the sun is shining. Taking advantage of premium platforms puts you ahead of the pack since they can do it all.
Let's imagine that you are planning to introduce an eco-friendly clothing line for babies and you would like to create awareness among parents with new-borns and toddlers. Based on your search words, your ads will appear to parents in various ways that are all relevant to the context, for instance when they read a blog sharing advice with first-time parents or when they play a video with good advice from a midwife. Alternatively, the same ads can be shown to parents when they visit sites that have nothing to do with babies at all, but because we know target audience details, we are able to target the message.
In other words, display advertising provides options that are not possible with television, where ads have to target a wider audience. Display advertising provides relevant, interest-based ads on, e.g. travel for the globetrotter or hunting gear for hunting enthusiasts, just as they can be segmented based on age or gender. In essence, campaigns can simultaneously run both placement and context options.
Like everything else with marketing, campaigns must be backed up by a strategy, whether that involves lead generation, app installs, brand awareness or increased website traffic.
I generally recommend incorporating display advertising with PCC campaigns.
I hope that what I've shared helps clarify what banners can do as a medium because they can do much more than their reputation implies.
* https://www.pixelkicks.co.uk/blog/9-google-display-network-ppc-tips-for-2019/
Mikkel Wendelboe – Digital Director
Share